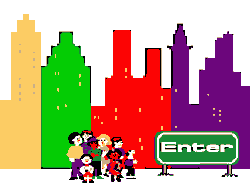 KID
CITY
TOWN HALL
---
KIDS and TEENS are wanted to join our KID CITY COUNCIL and give us ideas on what we should have in KID CITY. Also tell your teachers that we'd like several teachers to join our KID CITY COUNCIL and help us choose what we add.

We also need KIDS and TEENS as SUMMER web research interns and artists, from wherever you are!

You can get great experience, see your name up on our pages, help make KID CITY really great and be awarded cassettes, videos, CD-Roms and more!

To volunteer or find out more, click here

... and check back here at the KID CITY HALL for lots more coming this summer and fall.
---
Back to YOUTH AND CHILDREN NET

Youth & Children Net | Kidsurfer | Teensurfer | Teen-Anon | Streetcats Foundation for Youth
© 1996 - 2014 National Childrens Coalition - Streetcats Foundation for Youth