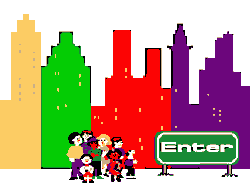 KID CITY
POST OFFICE
---
Welcome to KCPO, our Kid City Post Office. Here you will find all kinds of cool ways to communicate, to find friends, relatives and classmates on the Internet, to get yourself a new pen-pal in your town, across the country, or anywhere in the world, be part of chat on the web, just like on the online services. Or even to get a free new e-mail address of your very own--where you can read and send e-mail from home, school, or any library with a Net computer.
You can even join our own, brand-new Kid City / National Childrens Coalition's KIDSURFER E-mail Penpal Club.
Just remember--to have lots of fun--be safe. NEVER give your phone number or home address out to anyone without your parents' or your teacher's permission.
To join our free KIDSURFER Penpal Club, send your first name only, your age, city, state (and country if outside the U.S.), your e-mail address (be sure it's correct), AND what kind of e-mail penpals you want (boys, girls, their ages, hobbies, or interests) to us at our special e-mail penpal address: ycn5@yahoo.com
OTHER PLACES FOR PEN-PALS
KIDS SPEAK OUT (to talk about what's important ... NOT for pen-pals....)

FINDING FRIENDS/CLASSMATES

ZIP CODE/POSTAL INFORMATION

FREE WEB E-MAIL ACCOUNTS

COMING SOON: Web Chat, Stamp Collecting, CU-See-Me Video and Internet Phone
---
Youth & Children Net | Kidsurfer | Teensurfer | Teen-Anon | Streetcats Foundation for Youth
© 1996 - 2014 National Childrens Coalition - Streetcats Foundation for Youth